Brandi Coleman
is an American actress who played
Cherise
in
Battle: Los Angeles.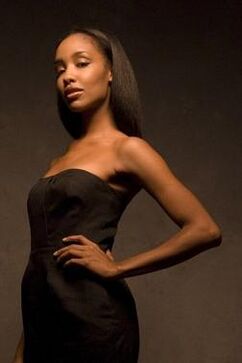 Biography
Edit
Brandi Coleman was born on March 30, 1982, in New Orleans, Louisiana. She has interned at the Cannes Film Festival as a U.S. student representative, one of the tree sent Americans that year. She graduated from Loyola University with a degree in International Business.
As an actress, Brandi Coleman has been seen in movies such as "Jonah Hex" (released this year), in which she portrayed Olean, "Bad Lieutenant: Port of Call New Orleans"(2009), and "H2: Halloween 2"(2009). She also had a minor role in a season one episode of the Vampire Diaries.
Filmography
Edit
Battle: Los Angeles (2011) .... Cherise
Mardi Gras (2010) .... Lucy's Friend
Welcome to Academia (2009) .... Blase
The Vampire Diaries.... Tiki (1 episode, 2009)
The Bad Lieutenant: Port of Call - New Orleans (2009) .... Yvonne
Halloween II (2009) .... Nurse Paige
Tribute (2009) (TV) .... Shana
12 Rounds (2009) .... Pedestrian
The Librarian: The Curse of the Judas Chalice (2008) (TV) .... Waitress
College (2008) .... College Girl #1
A Good Man Is Hard to Find (2008) (V) .... Nurse
Queen Sized (2008) (TV) .... Lucy Phillips
"K-Ville" .... Catering Girl (1 episode, 2007)
Deja Vu (2006) .... Sailor
Life Is Not a Fairytale: The Fantasia Barrino Story (2006) (TV) .... Valerie
For One Night (2006) (TV) .... Sally
Glory Road (2006) (uncredited) .... Party Girl
Hello Sister, Goodbye Life (2006) (TV) .... Olivia's friend
Campus Confidential (2005) (TV) .... Lacy
Locusts (2005) (TV) .... Josie
Odd Girl Out (2005) (TV) .... Boutique Salesgirl
Ad blocker interference detected!
Wikia is a free-to-use site that makes money from advertising. We have a modified experience for viewers using ad blockers

Wikia is not accessible if you've made further modifications. Remove the custom ad blocker rule(s) and the page will load as expected.